Ken: Choosing the Right UTV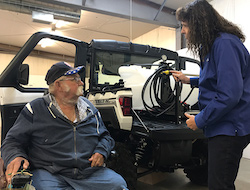 Ken, a farmer in western Kansas who is a double lower leg amputee, needed to figure out what utility vehicle (UTV) would work for him so he could continue to spray weeds on his farm, check fence line, and monitor his livestock. Assistive Technology for Kansans (ATK) staff wanted to demonstrate multiple UTVs without requiring Ken to make trips to different vendors.
ATK staff organized an event with commercial dealers of four different types of UTVs. At the event, ATK staff and Ken compared features of the different vehicles, their load beds, and spraying options. This information will be part of the recommendations to Ken's vocational rehabilitation (VR) counselor.
Six other ATK customers, four VR counselors, a VR regional manager, and 50 community members attended the event, along with 11 vendors from four states. Several vendors noted that this opened a new market for them as they learned to discuss features of their products that are relevant to people with disabilities. One presenter told ATK staff that having the support of the sign language interpreters helped him interact with all members of his audience.