Discovering Built-in Android Apps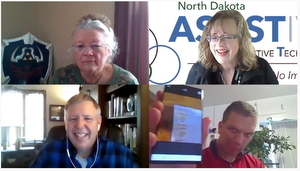 Melvin was having difficulty reading text on objects at work. His vocational rehabilitation counselor contacted the North Dakota AT program for assistance. Over a Zoom videoconference, program staff demonstrated some assistive technologies for Melvin and his mother. They showed Melvin how to use the free, built-in Android TalkBack feature on his phone for reading text aloud.
Through North Dakota AT's virtual demonstration, Melvin also learned about the Android Claro ScanPen app, a free app that takes pictures of text and reads it aloud. ScanPen works especially well on objects, and can even read some handwriting.
By the end of the demonstration, Melvin was testing the app with objects in his apartment, and ScanPen was accurately reading the text aloud. Melvin and his mom were delighted. "Now he can read text messages (from work) and everything on his phone, his TV screen, store flyers, coupons, you name it." Melvin's mom shared. "This was a phenomenal lesson. It was clear."
Opening New Doors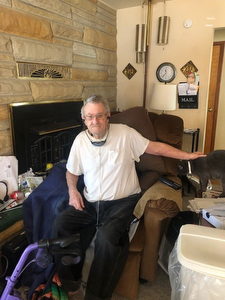 Barnard's family was concerned that he could not hear the doorbell ring when he was home alone. Barnard's caseworker at his local Area Agency on Aging referred him to an occupational therapist (OT) from the Disability Advocates of Kent County, a Michigan AT program subcontractor. In addition to assessing the doorbell, the OT correctly anticipated that Bernard might want to test a Pocket Talker, a hearing device that amplifies sound and reduces background noise. When testing the Pocket Talker, Bernard reported, "I can hear so much better now!"
The OT recommended a strobe light for Bernard that would flash when someone rang the doorbell. The OT also noticed that Bernard was watching TV with the volume turned up very high, and recommended the TV Ears headset, which makes TV audio clearer and reduces background noise. During the follow up visit, Bernard tried the TV Ears and was able to hear his television, even at a low volume. "I love it," Bernard shared.