Speaking with Confidence (and Humor)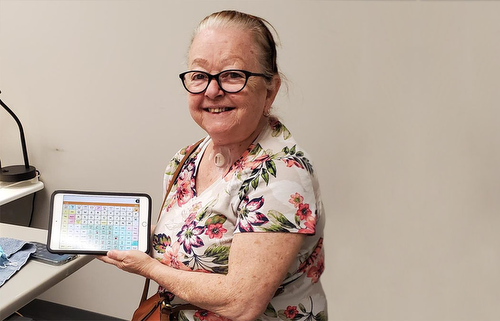 After undergoing a total laryngectomy that left her with no voice, E.K., a 71-year-old ICU nurse, was referred for an Augmentative Alternative Communication (AAC) evaluation by the Division of Vocational Rehabilitation. In her role as a nurse, Ms. K. relied on her voice for immediate communication with doctors, other nurses, and patients. After a comprehensive AAC evaluation and device trials, Ms. K. found that the Wego 7A by TalkToMeTechnologies supported her communication in several different ways.
Through training with her Speech and Language Pathologist, Ms. K. learned to use the pre-set word buttons to build novel responses in a conversation, ask and answer questions, and support her social interactions. She uses the keyboard with word prediction as a different strategy to type novel messages. For more predictable communication interactions, Ms. K. customized her device with pre-stored personal and professional phrases to use in a job interview, or to convey her wry sense of humor.
Searching for employment has been Ms. K.'s priority. While waiting for the perfect nursing position, Ms. K. has successfully worked with local food delivery services, communicating regularly with customers, restaurant staff, and her employers using her AAC device. When asked how her AAC device has impacted her daily life, smiling, she uses her AAC device to reply, "I can order food in a drive-thru, and be funny too". Regarding returning to her career, Ms. K. emphatically demands, "I can do everything I used to be able to do, except talk."
Family Matters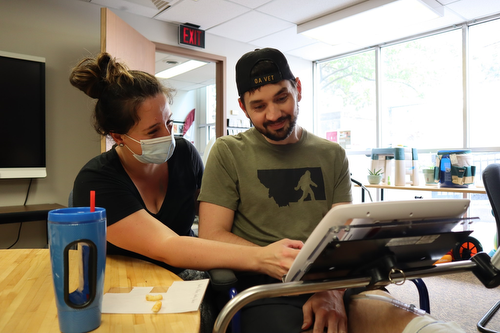 As a person ages or their illness progresses, sometimes AT and adaptive equipment needs to change, too. MonTECH's team works hard to make sure individuals have access to the best supports at each phase. This year, 32-year-old veteran J.P. visited MonTECH with his wife and caregiver. J.P. has frontal temporal dementia and his wife helps with his care. MonTECH was determined to provide any equipment that might make life sweeter or more comfortable for them.
MonTECH conducted a demonstration at their lab in Missoula and determined that J.P. needed loans for simple communication devices, universal cuffs, cup holders, mounts, and a temporary, more supportive wheelchair. J.P., his wife, and their young son were able to join a camping trip with extended family with the use of MonTECH's Emma X3 All-terrain Wheelchair and a wide camp cot. J.P.'s participation was important to the whole family – MonTECH was grateful to be able to provide equipment to support them on their special weekend together.